Transform your patio into oasis full of joy
Patio enclosure Alukov Pergola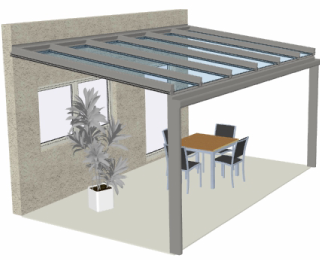 Extend your summer season with ALUKOV PERGOLA. This system features a stable construction with a non-sliding, fixed roof. The side walls can be closed with the CLEAR system - frameless glass sliding walls from safety glass ESG 8 or 10 milimeters thick. Your patio will thus be protected from wind and rain. The interior can warms up quickly and provides pleasant thermal comfort. Enjoy cosy days out with the family in the garden or prepare meals together with friends on your own patio. Or just have a great relaxation.
Thanks to Alukov Pergola you can use your patio even in bad weather and the usability of your patio will be extended up to 200 days a year. The construction sustains heavy snow and wind loads - you can place this enclosure almost everywhere. It can be used both inside the building and outside on the patio, as an enclosed car parking, pool enclosure or enclosed entrance to the house. It can also be used to extend the roof, cover stairs and for other special constructions.
For your convenience, it is possible to install a shading system to the roof that is operated by the remote control. The shading system can be tuned by adding the rain sensor, wind sensor and sun intensity sensor.
Create the perfect atmosphere and an oasis of comfort and relaxation on your patio...